Cango Wildlife Ranch (Dierentuinen)
Cango Wildlife Ranch (Dierentuinen)

6620, Oudtshoorn | Dierentuinen in Oudtshoorn
+27 (0)44 272 5593

http://www.cango.co.za/
Situated just 3km outside of the picturesque Karoo town of Oudtshoorn, the Cango Wildlife Ranch offers sanctuary to some of the world's most endangered species and a haven to visitors. Welcome to the Cango Wildlife Ranch, the oldest and largest cheetah contact centre worldwide where you can see and feel a huge variety of animals including Africa's spotted king, the cheetah. From the slithering snake to the majestic lion, you will find all you want here.

Since its inception in 1977 the ranch has become one of the largest tourist attractions in the region. Cheetahland was developed in 1988 and became the home of a variety of cats such as lion and jaguar, helping us with our goal to promote public awareness of endangered species.

The thrill of Valley of Ancients and Natural Encounters were completed in 2005 adding a thrill element to learning about crocodiles and making the Cango Wildlife Ranch one of the most interactive, exciting tourist attractions worldwide. New species of animals such as Madagascar Lemur, Spotted-necked otter and Marabou stork were brought in to awe visitors. The Natural Encounter program offers visitors young and old the once in a lifetime opportunity of interacting with some of our animals.

Let the young ones wander around our Kiddies farm yard where they can connect with nature by feeding and cuddling our hand reared rabbits, guinea pigs and goats.

If you are looking for a zoo, you will be sorely disappointed. The Cango Wildlife Ranch is uniquely designed to comfortably host more than 40 species of animals, giving visitors the opportunity to view and, in some cases, even interact with a variety of endangered animals.
Foto's Cango Wildlife Ranch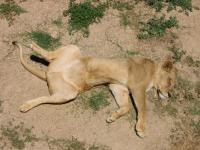 Luie Leeuwin
(© Martin)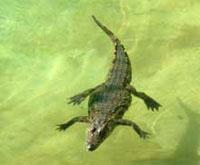 Krokodil
(© Cango Wildlife)
Heeft u een foto van Cango Wildlife Ranch?
Recensies Cango Wildlife Ranch
Er zijn nog geen recensies... :-(
Heeft u een mening, een wetenswaardigheid over Cango Wildlife Ranch of wilt u de eerste recensie schrijven?
Schrijf hieronder iets over Cango Wildlife Ranch!
Schrijf over Cango Wildlife Ranch
Schrijf een recensie!
Alle meningen, wetenswaardigheden en recensies worden op prijs gesteld.
Wees eerlijk, maar blijf beleefd!